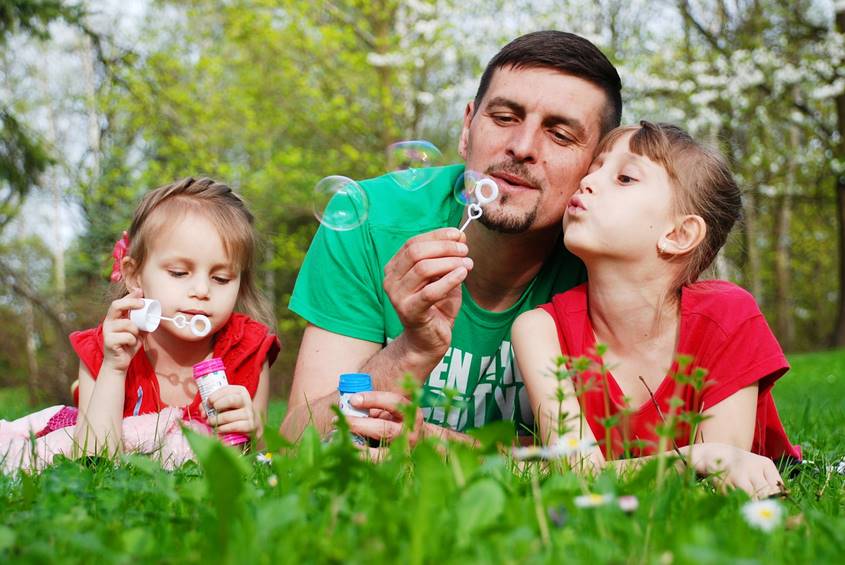 Family goal setting is very important. If you've had a chance to read the post about family goals, you know that for a family to be happy and successful, you need driven parents who give good directions to their "taxi driver".
The taxi driver is the "creature" we have in our mind that at any point in time, asks us "where would you like me to take you?" and to do a good job, he needs two sets of coordinates – pickup point and destination – and very clear and specific directions.
If you've answered the tough questions in the previous post, you should now have a better perspective on what you want your family to be like. You are already in better shape than most of the parents in the world.
I can tell you that in my personal research of thousands of parents, most of them didn't know what they wanted. They were the kind of passengers that tell their driver, "Drive", without saying where. They say, "I don't know what to expect. Just take me to where most people go". This guarantees they will get lost and bump into lots of traffic jams.
If you've answered the questions, you've gone over your own upbringing and decided what to take from it and what not. You've gone over your memories and funny events and learned from examining them what you want to your children to remember. You've gone over your mental obstacles and dared to want more out of your family life.
Wanting more is a great thing!
Remember, wanting is what makes the world go around. Wanting is what charges the battery of motivation. Wanting something for your family is the first step in achieving a happy, healthy and successful family life.
My personal preparation for family goal setting
Here is one of my personal answers as an example.
At my parents' house, dinners were very serious. We ate whatever our mom cooked, we never helped to make dinner and we had to finish whatever she put on our plate.
When dinner finished, we never cleared the table and immediately started fighting about who was going to wash the dishes. We would do ANYTHING to avoid washing the dishes, and that's a scar for all five of us.
When this was done, after lots of fights and arguments, name calling and insults, we spent every evening watching TV (thank God we only had one channel). Our parents allowed us to watch for as long as we wanted and whatever we wanted (horror, adult themes, etc), even after they went to bed. They had to wake up so early in the morning, I don't remember ever being aware if they were watching with us or not.
Years ago, when I questioned these childhood experiences, I realized I didn't want to take them with me into my own family. So, I came up with an ideal family concept that made life much easier for me.
My children cook with us (Gal also cooks) or even without us, and they get to choose what to make for dinner and to help prepare the food.
We put the food on the table and every child puts as much as they want on their plate. We don't say to them, "You have to finish what's on your plate", or "Do you know how much it cost us?" or "Do you know how many hungry kids in Africa would die for this meal?"
They don't have to finish anything. They can stop eating when they are full. Saying such things doesn't make kids respectful and appreciative, only guilty. There's no need to associate food with guilt. You eat because you want to – because you are hungry – and that's it! No hard feelings. In fact, we want our children to learn to listen to their body.
In our family, our children don't take turns washing the dishes. We set the table together, we clear the table together, we cook together, we clean the kitchen together and no one leaves until everything is done. This worked even when they were 4 years old. It is much more fun, and we do this while talking and sharing stories.
In our home, we talk and share what happened to us throughout the day while having dinner together. We sing, and my son plays the guitar sometimes, the kids tell us comedy things they've seen, or we share an article we've read or a video we've watched.
Gal and I use dinnertime to share some of the things we go through, challenges and successes. Sometimes, we "coach" healthy new concepts to the kids. Dinner is a fun time that takes about 2 hours every evening (including setting up, eating and cleaning), and it won't be registered in my children's minds as pain.
At our house, watching TV is not a daily routine. We had years when the TV was on only on weekends and school holidays. We've had years without any TV. Our oldest daughter, who is now 29 years old and a clinical psychologist, did not watch TV for much of her childhood.
Everyone told us she would come out weird and that we were cruel to her, but we think she came out perfectly social, sensitive, smart, kind and far from being weird.
We do not allow our kids to watch whatever they want. I remember I was shocked when our eldest had a party at the age of 12 and all the kids who came to sleep over said they'd already watched the movie The Sixth Sense. We didn't allow movies that were not age-appropriate and we would screen violence more than screening people hugging and kissing each other.
In our family, young kids went to bed at 8pm or 9pm (depending on their age) and could not sit in front of the TV for as long as they felt like it. Was it easy to get to that? No! But it was very important and worth writing goals and working towards it.
I think that answering the questions is important for you to figure out what you like and what you don't. I am not angry at my parents for the way their family behaved around dinner and TV. I understand they did whatever they could, based on their skills, understanding, fears and pressure, and they would want me to do things better.
They did a lot to bring me to a better place. If I do things exactly the way they did, I will fail them. So, when you examine your upbringing and find things that you don't like and don't want to take into your own (new) family, let go of anger and blame and just think of how to do it better.
Family goal setting guidelines
To drive your family towards your ideal family life, you have to have goals. If you want your taxi driver to bring you to that destination, you must give good directions. Here are some things you need to consider when doing your family goal setting.
You must write every goal. If you just say this is what you want, that's wishful thinking. It's not a goal. If it's not written, don't bother. Unless you write your goal, your mind will dismiss it as soon as things get tough.
Goals must have a time stamp. Think of something you can do within 3-6 months at most. Why? Because taxi drivers can't plan too far ahead, and they don't choose a course of travel for anything beyond 6 months. If you give your taxi driver the perfect directions for a destination that will take over 6 months to reach, your driver will refuse. He will say, "Sorry, there is no GPS that gives me predictions of a good route to use. It's too far away".
Go over your answers and pick 10 things that you think you can change in your own family life. Write them down and rate them in order of importance (to you) from 1 to 10 (1 being the most important). When I did this activity, I came up with hundreds of things I wanted. We can't drive to all those places at once. Think of it like the driver can have up to 10 stops in the same ride. So, choose your battles. One reason we write goals down is that we can go over them again in 3-6 months and pick another 10.
Write down specifically what needs to happen for you to think that your family life is better now. For example, if you have a challenge with mobile phones or computer and that's important for you to change, write down what will be ideal for you. Remember to only think of 3-6 months ahead. It is possible to make the change in a year or two years, so focus on progress, not perfection. We talk about the ideal family because we aim there, but we understand it took us years to get here and if we do better and better on different fronts, our family will be happier over time. I have been doing this work for 29 years, since my daughter was born, and I don't think I ever reached my ideal. When we change, our ideals change too, and that's perfectly healthy.
It is possible to write mini goals to reach the same thing. For example, "I want the bedrooms to be phone free at night", "I want dinners to be phone free" and "I want the computers and TV to be off 1 hour before bedtime".
When writing a goal, make sure to write what you want, not what you don't want. When you say, "I don't want to go to 72 Palmer Street", this is exactly where your taxi will take you. 72 Palmer Street. He only hears the details of the location, because that's what he needs to do his job.
Take out the relative words out of every goal you write. "I want us to spend more time together" confuses the taxi driver. He doesn't know what "more" is. Avoid words like "less", "healthier", "calmer", "smarter" and "kinder". I have clients who write goals full of relative words and it's no wonder they are frustrated. Relative words are the opposite of being specific. Write down exactly what you want. For example: I want the whole family to spend 2 hours of quality time every weeknight, and 4 hours on weekend days.
For every goal, write how you will measure success. It is the same as driving a taxi. You check that the driver took you to the right destination. He can't drop you off two blocks away or in the next town. You pay him only when the taxi arrives at a specific place. Also, as you travel, you may want to know how far along you've come and how far you still have to go. Goals are the same, so make yours measurable.
The last thing is to write down how you will celebrate the achievement of your goal. Celebration is the heart of making goals. It is the payment you give your taxi driver after he takes you to your destination. Celebrations of every achievement motivates the taxi driver to take you to your next destination. Taxi drivers only get paid after they take you to the exact destination and every "payment" tells the driver he is on the right track, that he is a good driver and that you and he work well together. The "passenger" gives good directions, the taxi driver follows them in the quickest and safest way, and everyone is happy.
When you finish writing what needs to happen for you to achieve your family goals, it is time to translate all the goals into actions. If the first question is "What need to happen?" the second question is "How can I make it happen? What can I do (not what others need to do) that will bring me closer to that ideal family that I want to have?"
Next time, I will share some tips about translating goals into responsible actions and how to collaborate with your partners and your kids to make your family happy.
Happy goal setting,
Ronit
This post is part of the series Family Goals:
Family Goal Setting: Set Yourself Up for Success