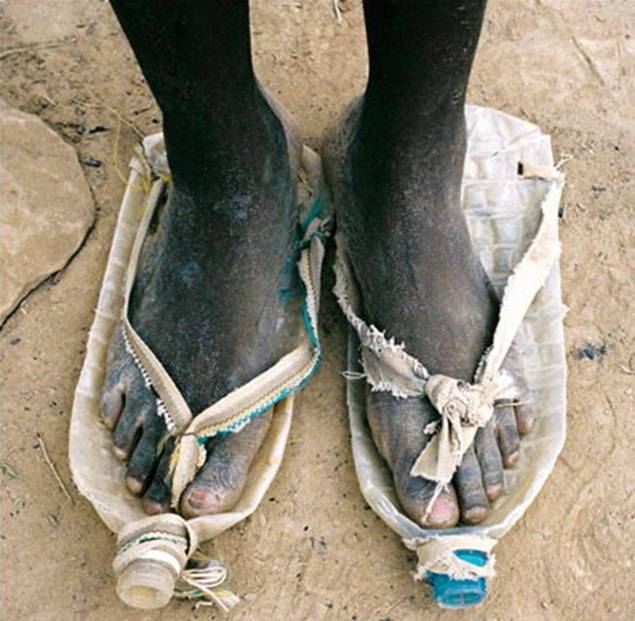 My kids just love shoes. We often call my youngest daughter Noff Imelda Marcos, after the widow of a former Philippine President Ferdinand Marcos who is best known for owning thousands of pairs of shoes. Since she was one year old and could walk, whenever we went into a shopping center, we joked that shoes were calling her to try them on. We could never leave the place until she put on ten to twenty pairs and size didn't matter. If she could buy all the shoes she wanted, we would have more than the shoes Imelda Marcos had.
The funny bit about her is that she must wear school-uniform shoes five days a week so she gets very little chance to wear all her shoes before she grows out of them…
My son Tsoof, who is 20 years old now, loves shoes as well. Luckily for him, the chance of him growing out of his shoes are very slim, so when he buys he shoes (and he buys them with his own money), he is more likely to wear them until they are totally worn out.
When I was a kid, we had only two pairs of shoes each and most of them were "hand me downs" from older siblings and relatives. We sometimes got new shoes as birthday presents. When we asked for sports shoes that we needed for school, our parents would say that we should think about all kids in Africa who had nothing to eat, because for them, shoes were a luxury.
One day, when Noff asked for new shoes yet again, I said to her that while hers still sat on the shelf, kids in Africa would benefit from the shoes that were too small for her, which were in a perfect condition. I didn't know then how true my words were.
Buckner Shoes for Orphan Souls
Last year, I found out about a project called Shoes for Orphan Souls run by an organization in Texas whose focus is on giving shoes to orphans around the world. Shoes are very useful for kids in remote areas, where they need to walk for hours to bring water, to attend school or to reach a medical facility, and can contribute to better health.
Recently, this organization gave the 3 millionth (!) pair of shoes to a child in Guatemala. Look at the face of this five-year-old girl below when she was about to try on her new pink shoes through Shoes for Orphan Souls, the humanitarian service of Buckner International. Think how simple it is to make a child who is not very fortunate happy.
When I told my own children about kids who had no shoes, I was sorry that over 50 years since my mom told me to think about kids in Africa, shoes are still a luxury for many children around the world, and I was happy to hear about the Buckner project making a difference in the world. I hope that thanks to them, when my own children have that talk with their own kids, things will no longer be this way.
Give and you shall receive!
Ronit