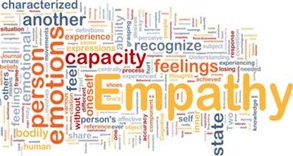 Empathy is a very important emotional skill. As parents and teachers, it is our role to teach our children empathy. Although some people have a natural tendency to be more understanding and empathetic toward others, our role is to promote empathy in all children. Regardless of their natural starting point, children can all improve their ability to put themselves in another person's shoes. This will help them build better relationships.
A person's level of empathy can tell us a lot about a person's emotional intelligence. If they are more empathetic, they are usually more confident. If you can be empathetic, it usually means you feel good enough about yourself to be able to share it with others.
Here are some things to remember about empathy.
Empathy develops at a very early age, thorough modeling. Modeling uses a mechanism in the brain called neuro-mirroring. What happens in the brain is that it recreates the action of the person we are watching, and we therefore feel what they are feeling. This is how we naturally develop empathy. If what we mirror is too overwhelming, the brain automatically shuts down/minimizes the mirroring to help us cope. Even though all this happens subconsciously, we can help our children develop positive empathy by choosing what to expose them to.
The science of empathy works with grownups just as well as it works with kids.
One way of measuring empathy is to pay attention to the language a person uses. In the next post for this series, I will show you some examples of statements empathic and non empathic people use.
It is important to remember that it is impossible to be empathic all the time. At certain times we can emotionally afford to be more empathic than others.
Empathy sits on a scale. Some people show more empathy and some people show less. This is natural.
The best way to teach empathy is to model empathy.
In the next post I will focus on sentences used by empathic and non empathic people. Although some of the empathy we can model is non verbal, verbal cues can give us a lot of insight into empathy. If you do not hear your kids using empathic language, it is simply because they have not heard it from the adults in their lives. Use empathic phrases more often if you want to hear them from your kids.
Happy empathic parenting,
Ronit
This post is part of the series Empathy: