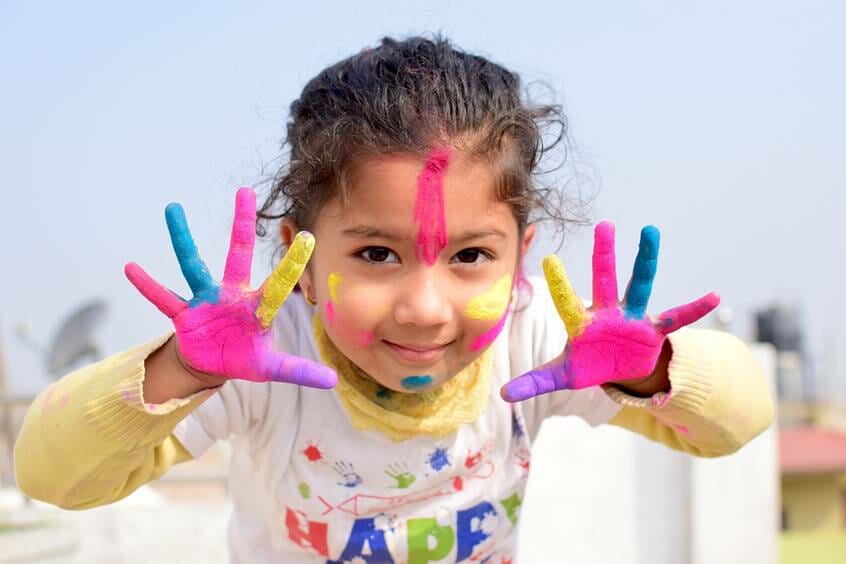 In the last chapter I explained why using games like slotsbaby.com and fun activities makes learning more enjoyable and memorable. In this post, I share 50 ideas to make learning fun. Remember, there are plenty more ideas and if one doesn't work for you, try another one.
I hope this list will be great help for parents and teachers who are sometimes stuck for ideas, so please share with the parents and teachers in your (child's) life.
Fun Activities to boost learning
Teach about nature by sprouting, growing plants, creating a vegetables garden, making potatoes heads and doing art with natural objects. Remember, it's not about stuffing kids' minds with information. We want to associate knowledge about nature with fun, so when the kids grow up, they will have love and respect for nature.
Teach science through cooking. Kids love experimenting and if cooking is an experiment, I don't know any kid that would hate science when it is so much fun.
Teach sport through dancing.
Teach concepts of floating and sinking by floating object in the bath tub, pond or local river. Children that have experienced it understand it perfectly.
Teach math using card games. Every concept in math can be turned into a game. I learned it from one of the best math teachers in the world who taught the most sophisticated math concepts using straws. Bring objects to explain models. When the model is good, it will be hard to forget. If fractions are introduced to children as a way to divide a packet of chocolate (and maybe eating it), no child will have issues with fractions.
Teach spelling with Bingo games. I used bingo games to teach 1.5-year-old children to read their first and last names. Bingo games are simple and easy, and they associate learning with fun. If the kids play together, they learn from each other as well.
Teach spelling/math/science with matching games. Matching games are even easier than bingo, because you can start with the cards facing up for simple matching. In math, you can have a problem (2+3) on one card and the solution (5) on a different card to match.
To help children develop their fine motor skills and prepare them for writing, do mazes, threading, beading, tying their shoe laces and weaving. It is a mistake to work on children's writing only with writing. If writing is a challenge, why torture the kids by making them face their challenges again and again. Work on their fine motor skills and their handwriting will improve by itself.
Get the kids to do "stop animation" with plasticine (it can teach them a lot about patience and hard work). Stop animation projects are fun and hard and even if they need adult help, they have to plan a lot and be very patient. Just use the topic you are teaching and ask them to present it to the class.
To work on their gross motor skills, get them to throw a ball at the wall and bounce it back, throw it to a basket (that can be on the floor), play Elastics and jump rope. Not all the kids like running or playing soccer. It is not necessary to force everyone to play the same game.
When teaching about triangles do Origami with the kids. It will help them understand the meaning of a triangle better (and it's relationship to square).
Do word searches to improve reading ability and visual perception
When teaching another language, use a shopping game with fake notes to teach the kids how to count and tell numbers.
Kids see colorful flash cards as games. If there are topics that need revision, put the information on flash cards to make them easier to remember.
Use music, rhyming, beat and songs to reinforce learning. We learn better by associating new knowledge with music.
Bring food to lessons. When children eat and learn, they remember things better.
Find TV shows that explain the concepts you want to teach. Seriously, kids can learn so much about history from Horrible Histories there is no teacher in the world that can compete with the program.
Use true movies to teach about events in the past. Yes, some of them will have spins that were not part of reality, but generally, they will be to the point. If you have a conversation about it later and develop kids' critical thinking, it will be easier for them to sift out the "Hollywood spin" and get the important knowledge from the movie.
When teaching geography, bring a globe and play games with the kids. Spin and point to a county, then ask the kids to say which country it is, to name its capital or to name a neighboring country.
When teaching flags from other countries, get the kids to do some artwork on the flags. Any artwork creates a kinesthetic experience that improves their memory.
If you want to teach them about how things are made, take them to factories. The process of how things are made is very helpful for children's understanding of the world around them and not taking life for granted. Even going to a bakery can do a lot to them.
Teach children about goals and get them to make a collage of things they want to achieve. It will be a reminder for them to work towards the things they want to achieve in life.
Get children to present their work in creative ways. Not all presentations need to be a written project or a speech. The more options they have, the more they will enjoy the topic and the learning experience.
To improve their thinking, get them to do Sudoku. With young kids, take the solutions at the end and erase some of the digits, then copy them and give to the kids. Gradually, you can erase more and more digits.
To teach children about 3D shapes, teach them to write 3D letters and numbers.
To teach the clock, make games and cards with digital and analog hours and play as a game until the kids fully understand it. For example, a matching game.
Play Treasure Hunt to teach kids to use a compass.
Make kites and fly them to teach the kids about wind and aerodynamic shapes.
Teach tongue twisters to help children think faster and improve their pronunciation.
Find acronyms for the names of every member of the class. Get children to work together so they can help each other.
If you want to teach good use of coins, make a supermarket in the class and get the kids to buy things. I used to give "money" for personal achievements and at the end of the term/year, I bought some small items and the kids could buy them with their "money". Kids asked me for more homework to get more "money" or asked to sit for a test (because it gave them more "money"). They were very motivated and never compared themselves to others, because the challenge was personal. I gave extra "money" for anything I wanted to promote: kindness, sharing, punctuality… Every kid could earn more on areas they had a challenge with and once they achieved it, I increased the level of difficulty.
To teach physics, get the kids to build bridges out of straws.
Play the silence game from time to time to see who can keep quiet the longest. Give rewards to the three winners, because in life, those who can control themselves benefit the most.
Play Simon Says from time to time to get the kids to focus.
Make a time capsule and hide it somewhere in the school. This is a good activity to do every year after the kids learn to write. Once a year, open the time capsule from 5 or 10 years ago to see what's changed. This helps kids think about the future. Discussing it will make the impact bigger.
Spend time on Show and Tell until 12th Grade. In later years, it can become a "talent show" or just "the show", where students share their talents and stories with the class. This gives children an opportunity to be proud of their talents and abilities and to practice public speaking. Most people dread public speaking and this sharing session will help them practice in a safe environment.
When teaching kids about the clock, make a sundial with them and demonstrate different ways to tell time.
Mediate with your children to help them relax. Stress is the enemy of learning and calm students learn much better.
Have a class album where every week is dedicated to one child. Children take this album during their week, write things about their life and family and at the end of the week, share their experiences with the whole class.
Get the children to make inspirational writing posters and put them around the class.
Play Math King in the class. At the end of every math lesson, one student (the king) comes to the board and the other children ask him/her a question in math. If the student can answer the question (the child asking must know the answer), the king keeps his/her title. If the king can't answer, the child who "failed" him/her becomes the king. Pick a confident child as the first king. It is better not to choose the best student in math. Otherwise, no one will get a chance to be king. If the king is there for more than a week (or whatever you decide), he/she gives the throne to a student of their choice. Bring a crown to class.
To teach physics, make paper planes and have a flying competition.
To teach kids about recycling, get them do artwork with recycled materials they bring from home.
Have a reading marathon. Give children incentives to read. If they read and love it, it will serve them for life.
Have class competitions for solving problems. Let children pick their own groups so they have incentive to work on it even out of school. It is better to start working in pairs and only later move to bigger groups. It Is not wise to go for big groups, because the dynamic between children becomes more difficult with the size of the group.
Try teaching with the help of the computer and make sure you choose something educational that is presented in a game. Not all computer activities are games. Some of them are just digital versions of worksheets. Games should be fun, challenging and built around gradual skill development.
When teaching the human body, have a skeleton in the class (could be made of cardboard) and make body parts for the students to put in the right place. This could be an interesting test, because no need to write many words. See below about making fun and interesting tests.
When working with children on gathering information from reading material, make a quiz. Give the students the quiz before they start reading, because it makes it easier to pay attention to those things while reading if they know what's important.
When teaching symmetry, get a mirror for kids to work with. The next level up is to connect two mirrors and ask students to make a page full of scribbles and use the two mirrors (open at different angles) to find flowers with many petals.
Make a fun and creative test. One of my teachers had a flag test. She arranged the tables around the room in a circle and put 30 flags on them. On each flag was a question. She gave each of us a page with numbers from 1 to 30 and 2-3 lines to write each answer. Each student stood next to a flag. She used her stopwatch and gave us 2 minutes to read and answer each question. After 2 minutes, she told us to move to the next question. It was a fun test. We did it standing up and she could tell how much we knew perfectly well, even if we didn't write long answers.
I hope you've found some ideas here to make your children and/or students' learning more fun and memorable.
Have fun when teaching, so kids can have fun learning
Yours,
Ronit
50 Ways to Make Learning Fun: List of Activities