Posts Tagged 'personal development / personal growth / personality development / self improvement'
Every family has fights. Even in the most wonderful family, people fight sometimes. Fights can be between the parents, between parents and kid and between kids themselves. Fight create conflict and can damage the delicate fabric of relationships. However, if you come out of the other side of the fight stronger, it can in fact strengthen the bond between family members. This is why conflict resolution in the family is so important.
If you are a parent and you have fights in your family, rest assures you are perfectly normal. The science of fights and conflicts is easy to learn and master. Once you learn the tricks, life can be much easier. It does not mean there will never again be fights in your family, but it does mean you will have less fights and you will be able to bounce back from them faster and come out stronger.
Teachers can usually manage fights in the classroom much better than parents do at home. This is mainly because they have learned some tools to prevent fights and ways to manage conflicts if it does arise. What this means is that you might notice some kids fight more at home than at school. This is more to do with the person "running the show" rather than the kid themselves.
So far, we've covered how attachment styles affect babies and individuals, but what about attachment styles in relationships and marriages?
Have you ever heard the theory that we pick partners who are similar to our parents? I have wondered about this over the years. My life partner, Gal is similar to my dad in some ways and totally different in many other ways. He is also similar to my mom in some ways and totally different to her in many other ways. I find it hard to either confirm or deny the theory.
While it is hard to decide if this theory works based on personal attributes, attachment theory claims that in some strange way we relate and attach to our partners and in a way that matches the attachment style that was created between us and our caregivers in those first years of our lives.
Babies' relationships with their parents in the first years of life has a significant impact on their future relationship. As babies, the attachment they have to their parents will become a blue print of their attitude towards themselves and others. During that period, they create a "navigating map" and use it until they become teenagers. In teen years, which are considered to be between 11 to 25, teens renew this map and the relationship between them and their parents becomes even more important for their future relationship.
For parents, this is the perfect opportunity to fix any problems in the relationship. For example, amending insecure attachment or making an already slightly secure attachment more secure. This is our second and the last one.
Like in early childhood, a secure attachment in teenagers is characterized by the ability to seek comfort from a meaningful figure when they are going through difficulties. It is also measured by how fast and how easily they are comforted and able to get them back on track, enjoying life and being available to absorb new experiences.
Everyone wants to have either a happy and healthy life or a healthy and happy life, in these orders. I think of happiness as a very inclusive concept: I want to be happy with my health, happy with my relationships, happy with my family, happy with my work, happy with money, happy with friends, happy with my art, happy with my friendships, happy with the direction I take in life and happy with an endless list of other things.
Here is one of my top tips for a happy and healthy life. Take the tips that resonate with you, feel free to change any of them to make them fit your style and your life, or add new ones if there are some that are not applicable to you.
If you have 100 tips and you follow one every day, your life will quickly become both happier and healthier.
Happiness is a journey and a choice. Happiness has been one of my biggest goals for many years. In the most recent years, I have been writing about happiness in this blog and in my books. The topics of my posts may be different but the focus is always on one thing – being happy.
To reach happiness, we need to focus on what we can do to make our life happy, rather than what we need to stop doing in order to avoid being miserable. Aiming forward, towards a better life, is a better journey than running away. Focusing on the good has been my motto for years. I teach my clients to avoid pink elephants, stop talking about the past, about what not to do, and move forward.
In recent years, I realized that there is a group of people that are not able to move forward because there is no space in their minds for good and happiness. They are so consumed by attitudes and behaviors they have formed as habits that they cannot even make that first step. For these people, the first step towards happiness is often stopping the things that make them unhappy. The things that keep them stuck, in the junction of life, miserable and sad, frustrated and angry, feeling like a failure. I want to go over all the things they must stop doing, before they can start moving forward.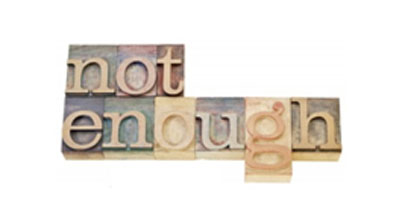 Magda came to see me after 16 years of heartache and pain. She was referred by a client of mine. She had seen psychologists and psychiatrists before, but felt very criticized and had never gone for a second session with any of them.
When I finally got to meet her, I was a bit surprised. She was in her early fifties and looked amazing – almost like a doll. She was tiny and very well presented with beautiful skin.
Yet, during the first 10 minutes of introductions, she managed to say only bad things about herself. The gist of them was that she was not good enough, unworthy and helpless. She said 27 bad things about herself in those 10 minutes. I counted!
This made me very curious about her because at that point we had just met and I knew nothing about her.
Coaching is very much like solving a puzzle. I tried to gather information that would allow me to help Magda in a way that the other therapist could not. As it turns out, Magda was an only child, born to very old parents. Her dad died when she was very young and her mom never had another man in her life.
Finding your own parenting style is not easy. Most of us adopt our parents' parenting style, without regard really thinking about it. We don't choose our parenting style, but let the style choose us.
We also like to think that we are better at parenting than our own parents. We often don't notice how we use the exact same parenting styles we hated in them. To our credit, we sometimes manage to make small changes and this makes us think that we are better than them. We can do something they couldn't. We think that the harder it was to make the changes, the better we are. This is not always true. In fact, the damage from our choices can be as bad for our own children as it was for us (or even worse).
This is a very hard concept for parents to understand. Kids see things completely differently. If your dad beat you with a belt or hot iron and you only use your hands to beat your own children, it is not very effective to tell your kids that you had it worse and that you are better than your own dad. When you hurt your kids, they can't really be all "Pollyanna" about it (Pollyanna was a girl who always found the positive side of everything).
The end of the year is fast approaching. It has been another full year and it looks like it is going to end with some great changes for us. My family and I are going on a fantastic holiday just before Eden, my eldest, moves in with her fiancé and begins preparations for their wedding in 2015.
As at the end of every year, I am writing a summary of our adventures for the year. Here is my summary for 2014.
2014 has been a very full and active year for the Be Happy in LIFE family. Our children have enjoyed a great year and we had lots of opportunities for "pride therapy".
In previous chapters of the "Save your Marriage" series I explained the two communication patterns that can destroy every marriage: The king/queen and the nitpicker. As I said before, no one becomes a "king" or a "nitpicker" because they enjoy it. Most of the time, they do it on a subconscious level, because they grew up in a house where one or both parents were kings or nitpickers and made them feel small and helpless.
In the last chapters, I explained how parents who abuse or bully, like the "king/queen" or the "nitpicker", can raise kids who are constantly on guard. In this chapter, I will explain how some parenting styles can "breed" kids who clam up and withdraw into their shells. This communication style can be very devastating for them in their future relationships and marriage.
In the last chapters of "Save Your Marriage", I explained how some parenting styles can "breed" kids who clam up and withdraw into their shells. This communication style can be very devastating for them in their future relationships and marriage. In this chapter of the series, I will explain how parents who abuse or bully, like the "king/queen" or the nitpicker, can raise kids who are constantly on guard. These kids try to protect themselves from pain and heartache and by that, they invite bullies and conflicts into their lives.
Growing up in a household where you feel constantly attacked and ridiculed, where one or both of your parents make you feel small and helpless, where you have no support and protection, where one or both of your parents nitpick, criticize, complain, are never satisfied and often angry, can make children alert and hypersensitive to any small signs that someone is going to hurt them.
This is actually a very natural reaction, in an attempt to protect themselves. But when taken into adulthood, into relationships or marriage, it can be very damaging. There is a phrase, the best defense is offense. These kids adopt this philosophy because they were attacked a lot. As a result, they sometimes see an attack when there is none. They are very sensitive to criticism and their emotional state is "I am not OK, You're not OK" (see series I'm OK, You're OK Parenting for tips on emotional intelligence).