Posts Tagged 'Kids / Children'
Every family has fights. Even in the most wonderful family, people fight sometimes. Fights can be between the parents, between parents and kid and between kids themselves. Fight create conflict and can damage the delicate fabric of relationships. However, if you come out of the other side of the fight stronger, it can in fact strengthen the bond between family members. This is why conflict resolution in the family is so important.
If you are a parent and you have fights in your family, rest assures you are perfectly normal. The science of fights and conflicts is easy to learn and master. Once you learn the tricks, life can be much easier. It does not mean there will never again be fights in your family, but it does mean you will have less fights and you will be able to bounce back from them faster and come out stronger.
Teachers can usually manage fights in the classroom much better than parents do at home. This is mainly because they have learned some tools to prevent fights and ways to manage conflicts if it does arise. What this means is that you might notice some kids fight more at home than at school. This is more to do with the person "running the show" rather than the kid themselves.
So far, we've covered how attachment styles affect babies and individuals, but what about attachment styles in relationships and marriages?
Have you ever heard the theory that we pick partners who are similar to our parents? I have wondered about this over the years. My life partner, Gal is similar to my dad in some ways and totally different in many other ways. He is also similar to my mom in some ways and totally different to her in many other ways. I find it hard to either confirm or deny the theory.
While it is hard to decide if this theory works based on personal attributes, attachment theory claims that in some strange way we relate and attach to our partners and in a way that matches the attachment style that was created between us and our caregivers in those first years of our lives.
If there is a trait I want my kids to have, it is kindness. Being kind to others brings more kindness to your world. I want my kids to feel that they are surrounded by kind people.
Unfortunately, they are not always surrounded by kind people. At least not as I would like. It is frustrating because I can't choose who they hang out with. When they were 5 or 6 years old, I could monitor their surroundings (even then it was not 100% of the time) but the more I wanted them to experience the world, the more I had to let go of this desire to control whether they hang around kind people or not.
My youngest daughter is now 13 years old and she is experiencing lots of the not-so-kind things her friends say about each other. There is a constant struggle for popularity and power through gossip and talking about each other behind backs. We as parents think this is the opposite of kindness and we don't want our daughter to be part of it.
Talking about other people who are not present is not always bad. Our family rule is to only say nice things about others and "if you don't have anything good to say, don't say anything". The more brutal version is "when you have nothing good to say, shut up!".
Socrates had a very logical way to tackle the same problem. He called it the Triple Filter Test. Here is a nice story that explains Socrates way of deciding whether to talk or not talk about others behind their back.
Babies' relationships with their parents in the first years of life has a significant impact on their future relationship. As babies, the attachment they have to their parents will become a blue print of their attitude towards themselves and others. During that period, they create a "navigating map" and use it until they become teenagers. In teen years, which are considered to be between 11 to 25, teens renew this map and the relationship between them and their parents becomes even more important for their future relationship.
For parents, this is the perfect opportunity to fix any problems in the relationship. For example, amending insecure attachment or making an already slightly secure attachment more secure. This is our second and the last one.
Like in early childhood, a secure attachment in teenagers is characterized by the ability to seek comfort from a meaningful figure when they are going through difficulties. It is also measured by how fast and how easily they are comforted and able to get them back on track, enjoying life and being available to absorb new experiences.
Secure and insecure attachment styles in babies produce different life styles in adults. Researchers have found that the relationship between babies and their parents (mainly moms) has a direct impact on their self-esteem and relationships as they grow older. Children who have a secure attachment will be more independent, have healthy connections with others, show higher emotional intelligence, perform better at school and have strong, steady relationships as adults.
If the world we live in is full of stress (which it is), then children with secure attachment will experience less depression and anxiety as adults, because they can manage their feelings better.
Through verbal and non-verbal communication, the relationship between parents and their babies in that first year of life gives the child a map with which to navigate the world and their experiences. This bond between parent and child during this critical time will shape their future relationship, teach them ways to calm themselves, manage stress, build their resilience and teach them how to find happiness and success in life.
I have often heard that babies only need to be fed, put to sleep, and changed in order to grow healthy. In fact, it is how we feed them and the way we put them to sleep or change and bath them that shapes the formation of attachment. It teaches them how life works and how they should behave.
What Causes Insecure Attachment Between Parents and Babies?
The attachment between babies and their parents in those first few years of life becomes the blue print for the child's future relationships. Insecure attachment style happens when parents cannot give their child the feeling of security that he or she needs. Usually, this happens completely unintentionally.
There are several causes for insecure attachment. Here is a list of reason. Each of them on their own, or in combination can interfere with a healthy bond and secure attachment.
Separation from the primary caregiver – One of the main reasons for this separation is if the baby is sick. Premature or sick babies often stay intensive care, where their main caregiver cannot care for them. This can result in challenges in developing secure attachment. In other cases, sickness in the mother will prevent her from attending to her baby and can result in separation and insecure attachment. Other reasons may include divorce, death of the main caregiver or being given up for adoption.
Inconsistency by the primary caregiver – Having a consistent caregivers is essential to developing healthy and secure attachment. If a child changes caregivers often, either at home (e.g. nannies) or in day care, this may results in feeling insecure. This is one of the biggest reasons why we should aim for consistency in a child's first year of development.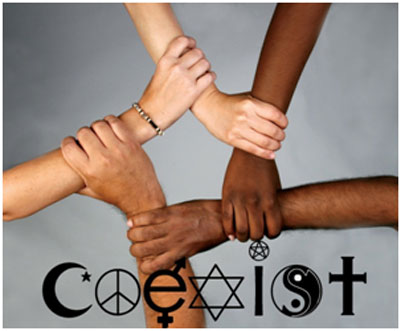 The question about two parents with different religions or belief systems raising kids has become very relevant in our society today. The world is much more multicultural and there are many mixed couples finding love and wondering about the impact of this on their kids.
My eldest daughter, Eden, is getting married in 2 months to her now-boyfriend, Sandy. Eden and Sandy are a gorgeous couple and we are very happy they found each other. No pressure or anything, but we are also very much looking forward to them having kids. The interesting thing is that Eden and Sandy come from two different cultural backgrounds, different languages and different faiths. Many of our family members and friends have been wondering about the "chance" of such a relationship succeeding and the difficulty in raising kids.
I cannot say exactly what will happen for Sandy and Eden. I am not a fortune teller after all. I am, however, the state director of a not for profit organization that provides education on diversity and advocates for religious and cultural tolerance. I strongly believe in this work.
In some way, Eden and Sandy have more similarities than many other couples do. For example, they are both migrants, both their parents are still together, they both value different cultures, they both speak languages other than English and appreciate others who speak other languages, they are both kind and accepting of others. I think the "chance" of a successful relationship depends not on the number of differences between them but in their ability to appreciate and take advantage of the similarities.
In the first chapter on attachment theory, I explained the four characteristic of attachment: safe haven, separation distress, secure proximity maintenance and safe base. Based on how well the caregiver meets each characteristic, the baby and his/her caregiver will form a different attachment style.
In a famous experient titled the "Stranger situation" psychologists Mary Aninsworth (expanding on work done by Bowlby) observed children between the age of 12 to 18 months. She was interested in their response at being left alone and then reunited with their mothers. The results led her to 3 major attachment styles. In 1986, researches Main and Solomon added a forth attachment style. A number of studies since then have confirmed that the attachment style that developed in a child's early years of life will determine their future relationships and connections with other human beings for years to come.
The four attachment styles are: secure, ambivalent, avoidant and disorganized.
The emotional bond between people depends on their ability to connect and the style of the connection. The attachment we have with the people in our lives (partners, children, siblings, friends and even our own parents) are strongly associated with the attachment we formed in our early years of life, with our primary caregiver (usually our parents). Similarly, the challenges we experience in our relationships as adults are shaped by the patterns of challenge from our early attachments.
According to John Bowlby, attachment is the connection a baby forms with its parent to ensure their basic needs of safety, comfort, care and pleasure are met. He described this attachment as "lasting psychological connectedness between human beings". Bowlby believed that the style of the relationship between the parent (mainly the mother) and the child in this critical period of the baby's development becomes a blue print for later relationships.
The main idea of attachment theory is that the caregivers provides the baby with a safe and secure base from which to explore the world. The baby knows that it is safe to venture out and explore the world, and that the caregiver will always be there to come back to for comfort in times of stress and discomfort.
Valentine's Day is coming soon. My junk mail is full of advertisements for gifts for the Valentine's Day couple. Just like every year, I am a little disgusted. Valentine's Day, which is supposedly a day to share and express love for each other, is in fact a day that promotes very specific gender stereotypes – aggressiveness and violence in men, and vanity in women. You might say I am over reacting but I dare you to look at Valentine's Day ads and see how stereotypical they are. Women are perceived as obsessed with their looks and man are obsessed with anger, violence, sex, aggressiveness and technology.
Since when do women only care about their beauty? It is a sad state of our a society if everyone believes the Valentine's Day ads that think women are so shallow and dumb that they only care about their looks.
Since when do men only want to be perceived as strong and aggressive? It is a sad state of our a society if everyone believes the Valentine's Day ads that think men are so shallow, angry, aggressive and childish that they will do anything to make themselves feel "manly".