Archive for the 'Personal Development' Category
The end of the year is fast approaching. It has been another full year and it looks like it is going to end with some great changes for us. My family and I are going on a fantastic holiday just before Eden, my eldest, moves in with her fiancé and begins preparations for their wedding in 2015.
As at the end of every year, I am writing a summary of our adventures for the year. Here is my summary for 2014.
2014 has been a very full and active year for the Be Happy in LIFE family. Our children have enjoyed a great year and we had lots of opportunities for "pride therapy".
In previous chapters of the "Save your Marriage" series I explained the two communication patterns that can destroy every marriage: The king/queen and the nitpicker. As I said before, no one becomes a "king" or a "nitpicker" because they enjoy it. Most of the time, they do it on a subconscious level, because they grew up in a house where one or both parents were kings or nitpickers and made them feel small and helpless.
In the last chapters, I explained how parents who abuse or bully, like the "king/queen" or the "nitpicker", can raise kids who are constantly on guard. In this chapter, I will explain how some parenting styles can "breed" kids who clam up and withdraw into their shells. This communication style can be very devastating for them in their future relationships and marriage.
Kindness matters. If you look around, it is easy to see that everyone struggles. The world is a battle field and we are in a constant state of war.
If you watch the news for five minutes, you risk believing that the world is a dangerous place. Countries fight other countries, cultures fight other cultures, people fight in the name of God and in the name of their religion, people fight their neighbors, and their spouses. They fight their friends and their children. At work, they fight the boss or their colleagues. Even if they don't fight for survival, they fight for justice or for love. If the fight is not with others, they fight time, weight, aging.
There is no end to the struggles. No wonder life seems so exhausting. I believe the source of all the struggles is the fight with our fears.
A fight, no matter what the cause is, is still a fight. It is like a war between two, even if the two are inside of us. I have learned a very good rule in life: In war, there are no winners. Some lose more while others lose less. In any case, there are only losers. So, if we fight, no matter who and what, we always lose.
Love is important and it takes up lot of our energy. We want to love and be loved in return. I think of love as a battery. When we have love, we feel powerful, energetic, optimistic, creative and motivated. It drives us forward and it is addictive. Yes, addictive. Once you feel love, you are not the same person anymore.
I realized all this about love when Eden, my eldest, was born over 25 years ago. With her, new feelings were born inside of me and there was nothing that could take those feelings away.
Before Eden was born, my first nephew, Adam was the first kid I ever loved. And I loved him so much (and still do) that I was afraid I wouldn't be able to love my own child as much as I loved him.
When Eden was born, I was glad to discover that there is no limit to love. I loved Eden so much and my love for Adam did not change one single bit. But at that point, I realized that we bring kids into the world to learn to love ourselves. Our own kids teach us so much about ourselves and we should appreciate that.
Self-esteem is something that functions like fuel to the body. If we have high self-esteem, the ride is better in many ways. We move forward more smoothly, we have fewer problems and we get to our destination faster.
Everyone has some level of confidence in life. It is just that some people have more than others and they seem to go through life with much more success and happiness. People with high self-esteem have fewer doubts and they don't blame their "ride" every time things don't happen the way they want them to be.
Let's face it, we can't always get what we expect 100% of the time. If we could, we would be able to predict what will happen in the future (I don't know if this is a better way to experience life but let's leave this dilemma for another post). What we can do is make sure our beliefs set us on a very easy, smooth (as much as possible), happy and successful ride. If it can get us forward faster, all the better.
This blog is full of many beliefs about living life with confidence. I have written about ways to instill confidence in our children as parents or teachers. The list of affirmations that promote high self-esteem is endless. If I tried to write a list of them all, I would find myself spending years and never reaching the end of the list. There are millions of thoughts or combinations of thoughts that support high self-esteem and boost confidence. Notice these in yourself and in the world around you. Start collecting them and learning how to adopt them.
In the last chapter of the affirmation series, I explained why it is important to adopt good beliefs about the world around us. What we think of our body and about its health is very important to the function of the body and its health. We can plant healthy beliefs in our minds by using healthy affirmations and reading them over and over again.
As a mother, I am a strong believer in affirmations and planting good and healthy beliefs in kids' minds. I have 3 kids and they are extremely healthy. They go to the doctor for health checks, not due to illness. I truly believe this is mainly because they have very healthy beliefs about their bodies and their health.
Gal and I appreciate health very much and we try to instill healthy thoughts in our children. If you are a parent and would like to raise healthy kids, read the list of beliefs and pick those you want to plant in your kids.
I have written a lot about affirmations in this blog, mainly because I believe they are very important for our health and wellbeing. You can sit down with a person for 10 minutes and tell if his/she is a happy, successful, healthy person by the sentences they repeatedly say.
Do you know why? Because those things they repeatedly say are part of their beliefs about themselves and the world around them. The way we experience the world depends a lot on how we tune our minds.
Let me give you a good metaphor. Think of the beliefs in your head as colored glasses. If you put pink glasses on, you will see the world in pink. If you put blue glasses on, you will see the world in blue. If you have black glass on, well, you won't see anything because they block out the light.
Most people dedicate a lot of their energy to changing the world around them, when the greatest and easiest impact would come from just changing their glasses, or in our case, our beliefs about the world inside and outside of us. It is true that not everything can be changed by changing our glasses, but changing our beliefs have a tendency to snowball, for better and for worse. If we make small adjustments in our belief systems, it will lead to exponential change because our beliefs are highly interconnected.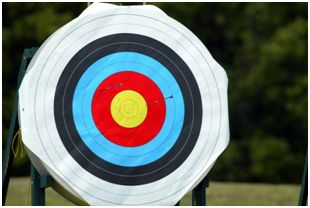 I was officially introduced to goal setting for the first time in my life when I was 18. I was doing a course at university, and goal setting was a very small component in it. I never realized how significantly it would impact the rest of my life.
Research published in Psychological Science says that setting goals, at any age, can add years to your life. I like to think of it in the opposite way as well: goals add life to your years. The study followed 6,000 people aged 20 to 75 for 14 years. The researchers where looking at three components:
1. If participants were goal oriented
2. If participants had more positive or negative relationships
3. If participants had more positive or negative feelings
Throughout the study, 569 participants died (about 9%). The researchers found that those who still lived had more goals and better relationships than those who died. The most surprising thing about the study was that it found that this was true for young participants as much as the elderly. Having goals led to better outcomes. Goals were an advantage for people who worked as well as for those who were retired. So goals get added to the formula for long life.
Life is a series of seconds that lead us in different directions. A slightly different choice can lead us towards a totally different life. One second is all it takes to make a change, sometimes for the better and sometimes for the worse. This one second will never come by again. If we let it pass by, it will be lost forever.
If you want to know the power one second can have on life, think of the second the sperm connected with the egg that created you. One second earlier or one second later, could allow a different sperm to win the lottery of life and be the difference between you and another child.
If you are a parent, you know that every child of yours is a unique creation. The one and only option out of millions of possible kids.
It is a fact that we cannot see ourselves the same way others can see us. Firstly because we usually see ourselves in the mirror which is not the same position others see us in. Secondly, because we see ourselves from the inside and the inside is cluttered by thoughts and feelings we have towards ourselves.
The beauty inside is developed by what others, who are very close or important to us, say about us. I have met many grownups who carry negative beliefs from childhood. For example, people who are critical of a facial feature like a long nose or big eyes that mom or dad mocked at the age of 6. They simply cannot shake this feeling in adulthood. I myself grew up in a culture that thought straight hair was an advantage and curly hair was not. As kids, we spent year looking for ways to straighten our hair. It was only when I grew up and met others who spent a fortune on curling their hair that I learned to appreciate what I have. This is a natural process.